Bory Tucholskie - what is worth seeing? Top 10 most interesting places
2023-07-11
Bory Tucholskie is still an underrated but fantastic place to spend a shorter or longer vacation.
Explore the Bory Tucholskie National Park and its most significant attractions. Just like everyone who has been there, you will undoubtedly find something that will captivate you and make you want to return every year.
What are Bory Tucholskie known for? - Top 10 most interesting attractions
Bory Tucholskie – the attractions found there will satisfy anyone looking to relax in the lap of nature or have an active vacation, and history and ethnography enthusiasts will surely be delighted. The vast expanse of forests, lakes, and picturesque villages makes exploring and experiencing everything take a lot of time. To start, you can familiarize yourself with the most characteristic and popular places. When visiting Bory Tucholskie, don't forget about attractions such as:
1. Trzebciny Observation Tower – a tourist attraction in Bory Tucholskie
The Trzebciny Observation Tower stands in the place where a powerful tornado swept through Bory Tucholskie in 2012. It literally 'mowed down' a strip of forest 20 kilometers long and ranging from 100 to over 700 meters wide. In 2015, a young forest was planted there, but you can still assess the extent of the damage from this tower.
2. Nature Trails – Jelenia Wyspa, Jeziorka Kozie, Woziwoda
Nature trails through the forests are excellent places to get to know the beauty of nature and how it works more closely. Each trail has many information boards explaining various secrets of the forest and its inhabitants.
3. Bory Tucholskie National Park
Bory Tucholskie National Park is an excellent place for walks and recharging your energy directly from nature. Many people mistakenly associate the town of Bory Tucholskie, although in reality, there is no such place. It's just extensive forests with many lakes and rivers. The national park with this name occupies only a part of them. So if you want to find a beautiful and secluded holiday resort, Bory Tucholskie is an excellent place for it. They will provide you with an exceptionally attractive or peaceful vacation, depending on your plans.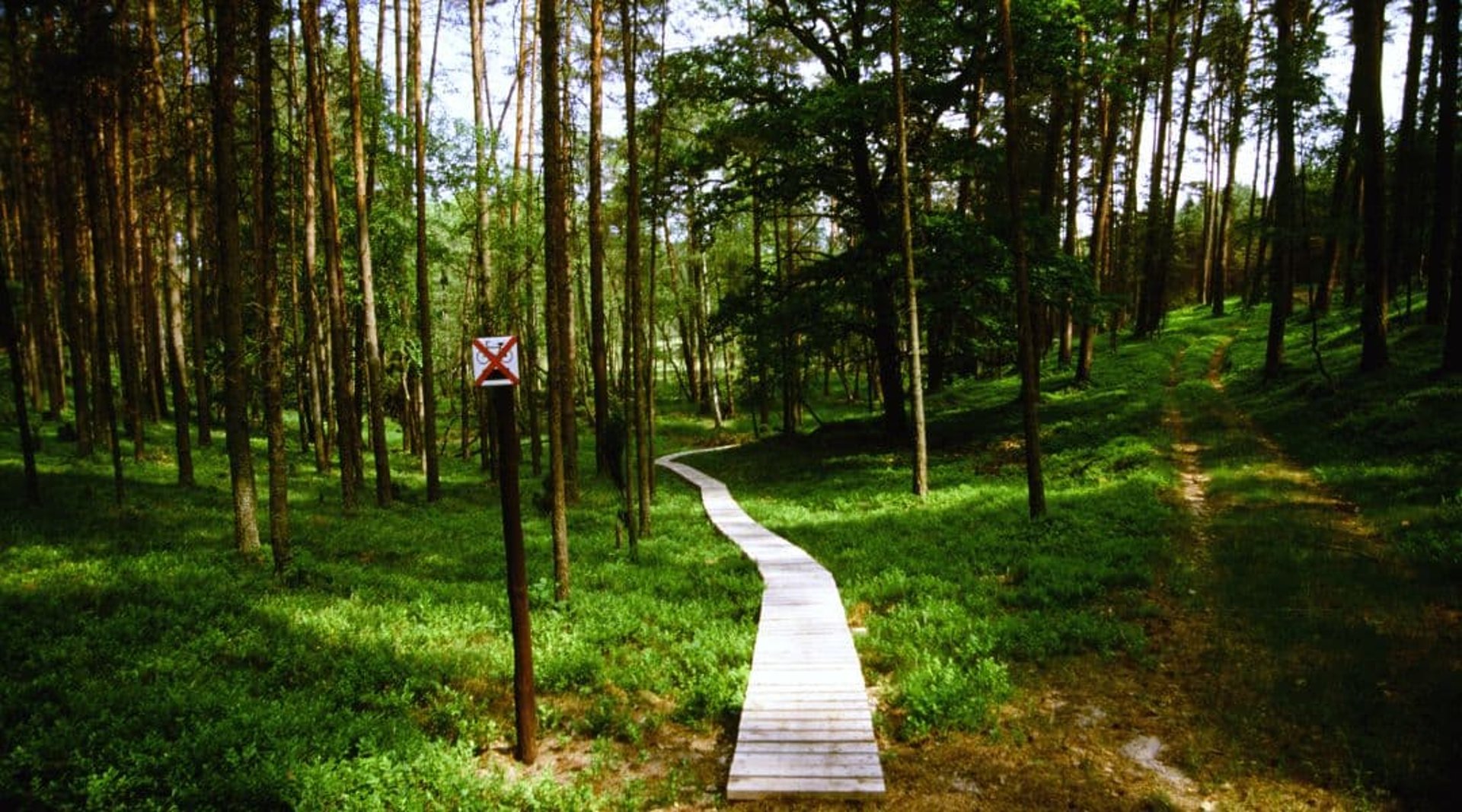 4. Raciąż Stronghold
This place has been inhabited by people since the Neolithic era. Currently, there is a partially reconstructed wooden stronghold from the Middle Ages standing there. The first mentions of the stronghold in this location date back to 1178. However, it was frequently destroyed, with the last fire consuming it in 1330, twenty years after it was sold to the Teutonic Knights. It was not rebuilt, and the nearby village took its name.
5. Bartuś Oak
Undoubtedly, this is one of the natural wonders that Bory Tucholskie National Park proudly boasts. The oak has a circumference of about 7 meters and reaches a height of 25 meters. There are certain difficulties in determining the exact age of the tree. Some estimate it to be 600 years old, while others suggest less than 500. Regardless of which of these values is closer to the truth, it's still an impressive achievement.
6. Kacze Oko Lake – wooden platforms
Kacze Oko Lake is a beautiful example of a dystrophic lake, meaning it has no outflow. It is located amidst peat bogs, giving it a distinctive brown color. The water is acidic, which results in minimal vegetation due to the lack of light penetration caused by the dark water. Kacze Oko is a nature reserve, but it can be observed from a trail along wooden platforms along the shore.
7. Julian Rydzkowski Kaszubski Trail and Strugi Siedmiu Jezior (Seven Lakes Streams)
The Kaszubski Trail is the longest trail in the entire region, measuring 139.5 kilometers in its entirety. While traversing it, you will explore a significant portion of the Kaszubskie Lake District. You will encounter beautiful places such as Kartuzy and the Radunia River, which connects many local lakes. The Strugi Siedmiu Jezior Trail is "only" 47.9 kilometers long. Walking along it, you will get to know the exceptional river known as Struga Siedmiu Jezior, which stretches for 13.9 kilometers and connects eight lakes, with a distance of just under 2 kilometers between them.
8. Brda and Wda Rivers Flowing Through Bory Tucholskie
The Brda River flowing through Bory Tucholskie is undoubtedly a great attraction in this region. The river's gorge, called Piekło, is particularly picturesque. Tourists also enjoy visiting the dam in Zaporze and the Wielki Kanał Brdy, which runs parallel to the river. The Wda, also known as the Black River, offers one of the most beautiful kayaking routes.
9. Cities of Chojnice, Czersk, and Tuchola
Tuchola is often referred to as the informal capital of the Bory region because it is practically located in the center. Its history dates back to the Middle Ages, and it is believed that the famous swords given to Jagiełło before the Battle of Grunwald were forged here. It's also worth visiting the Tuchola Bory Museum in Tuchola. Chojnice also has many historical monuments, including a neo-Gothic town hall, a Gothic basilica, and a section of walls known as the Człuchowska Gate. In Czersk, you can explore a neo-Gothic church and the 1900 railway station building, among other attractions.
10. Czerwona Łąki Józefowskie Path
The path through Łąki Józefowskie allows you to get acquainted with the valuable nature of this area. There are seven information points along the path where you can learn interesting facts about the forest, ants, meadows, and the role of dead trees in the ecosystem.
Bory Tucholskie National Park is a place where you will undoubtedly enjoy your time and find relaxation. Check the accommodations category for Bory Tucholskie, although you can also stay in other towns in Kociewie or Kaszuby and visit Bory Tucholskie from there. However, you will experience the most relaxation and fresh, revitalizing air by staying in facilities located in the heart of the forests or by the numerous lakes. Bory Tucholskie – a cottage by the lake or a recreational center is a holiday hit for those who value peace, nature, or physical activity in the great outdoors.